Strut braces and other braces, maybe short shifts too all in stainless or ally.
Just want to see how many people are interested in upper, lower braces.... Under front wing bars etc etc, in fact pretty much anything you can think of in either high grade alloy or quality stainless... Just something I have a friend looking in to cost of..
Will have some pics of prototypes as soon as they are done.... Can be done for all protons but as you would expect more popular models will be cheaper due to development costs being spread.
Pm me if you would like details of any particular brace.
I am having a brake master cylinder stopped made like the new Evo's have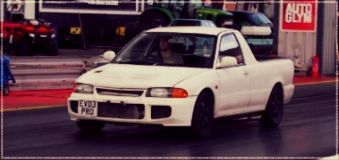 "Weebles wobble but they don't slow down !! "
Weeble the Mentalist a.k.a Collector of all things Proton including Clubs.
Evo powered 4wd Proton Jumbuck....